Starboard is a product I co-founded and built with friends from 2014 to 2015. We set out to provide the best way to find and book hunting and fishing trips all over the world. Where I grew up, in southeast Texas, a lot of land is privately held, making it difficult for people to access the prime locations for hunting and fishing. Starboard connects these sportsmen with the landowners, and vice versa. Our Starboard crew was invited to interview for the YCombinator Summer '15 class.
Year: 2014 - 2015
Role: Co-Founder. Design & Product
Team: Eric Moujaes, Gus Huigera, Illya Busigin
Platform: Web, iOS Phone
Traveler Experience
Travelers can explore adventures as soon as they open the app. The featured trips section is populated based on the traveler's current location. Travelers can also narrow down search results by defining specific adventure criteria, such as group size, price, and  travel date, helping them find the most amazing outdoor adventure.
All About The Details
Specific trip details, including photos, location, and reviews, help travelers narrow down which adventure they would like to take. Previous travelers can post reviews of their trips, which provide a way for interested travelers to see if it's something they'd be interested in. Guides have a profile to explain a little about him or herself so that travelers feel comfortable and know what to expect.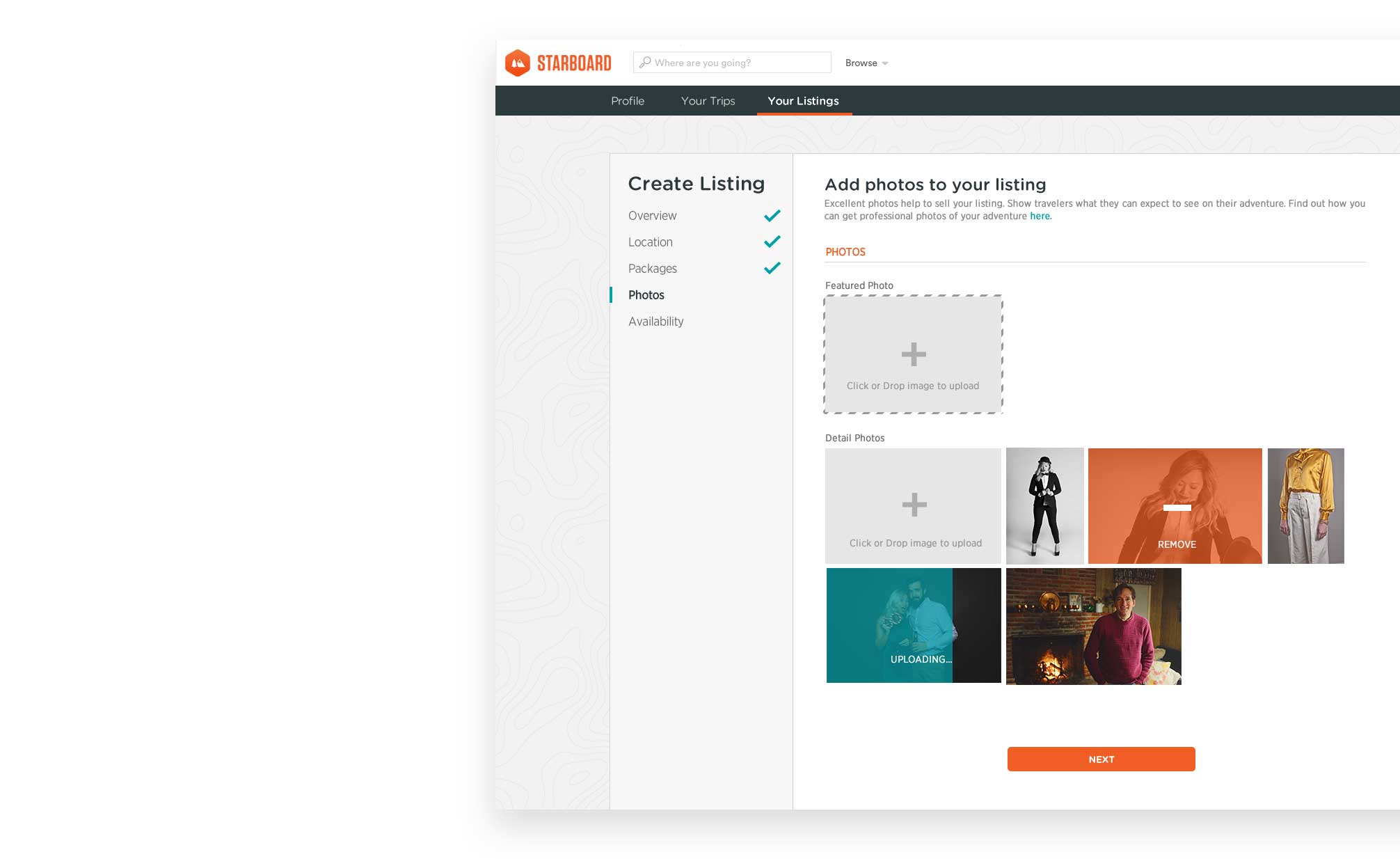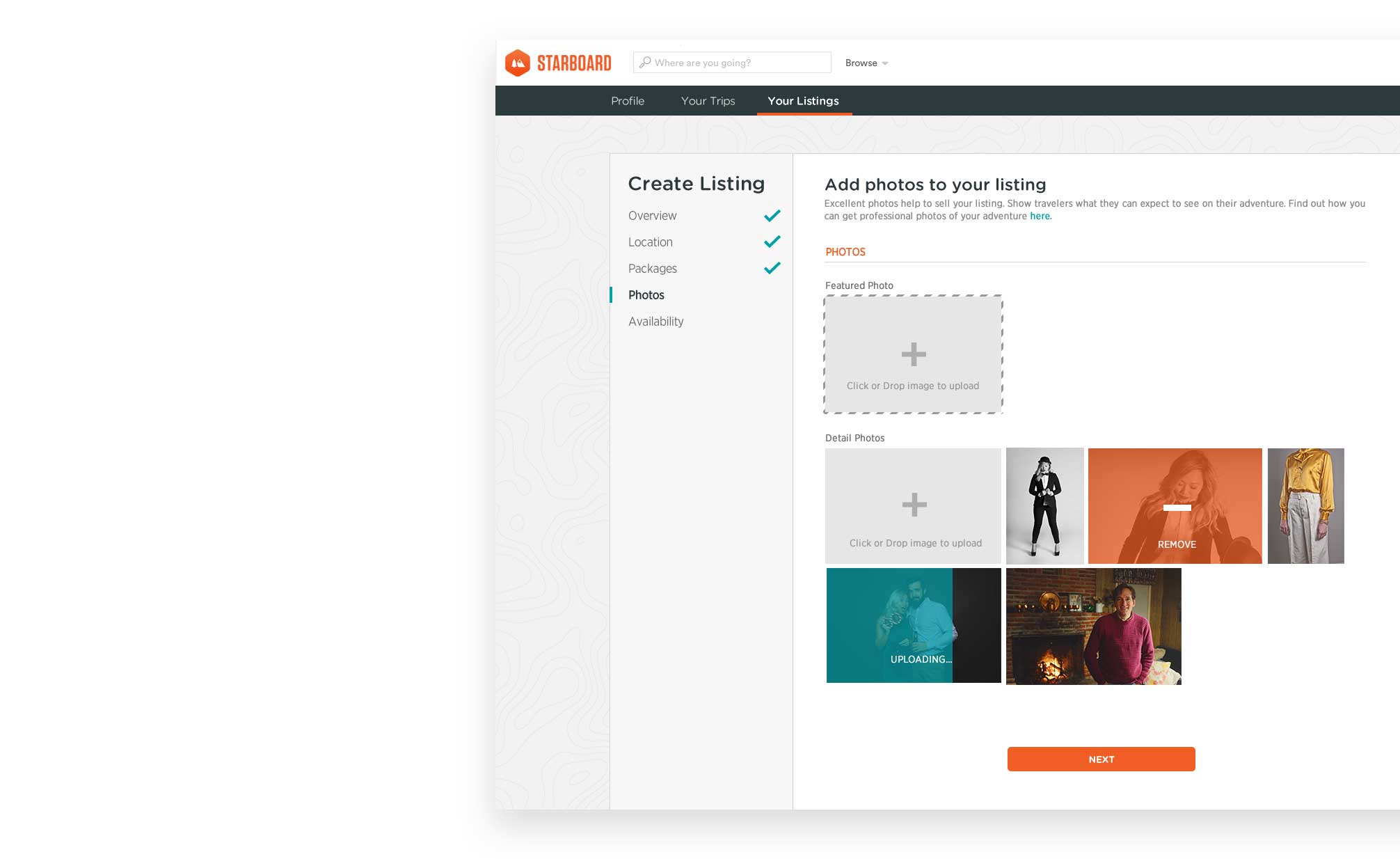 Listing Management (Web Portal)
By logging in to their account, guides can create, edit, and manage their listings. The Starboard dashboard mimics the clean customer-facing aesthetic, helping Starboard guides to quickly and easily edit detailed information, add packages, edit pricing, and manage photos for their listings.
Listing Management (iOS app)
We found that many of our guides are rarely at their computer, so creating a way for them to access their listings on the go was important. Since we'd already created a web portal for guides to manage their listings, we were able to use that as a framework for a standalone mobile version.
YC S'15
We were invited to interview for YCombinator in the summer of 2015. Eric, Gus, Illya, and I flew to San Francisco together, and worked tirelessly on our pitch—the energy was awesome, and spirits were high. We not only had to nail our individual contributions to the team, but we also had to know everything else about the company and our market. The YC team was also impressed with the live iOS app we put in front of them. That was the fastest 10 minutes of my life. Ultimately, YC chose not to fund us, but everything we learned from the process is invaluable.
[unex_ce_mailchimp id="content_lcnxfx7gh,column_content_uef12637u" placeholder_text="E-Mail Address" alignment="center" button_position="inline" button_spacing="0px" input_placeholder_color="#b2b2b2" input_width="span4" input_text_align="center" input_text_color="#000000" input_bg_color="#f7f7f7" input_padding="20px 30px 20px 30px" input_border_width="0px" input_border_color="#373739" input_border_radius="0px" input_placeholder_color_mouseover="#000000" input_text_color_mouseover="#000000" input_bg_color_mouseover="#e6e6e6" input_border_color_mouseover="#000000" input_font_size="18px" input_font="regular" button_text="GET THE SHIRT!" button_text_color="#ffffff" button_font="semibold" button_font_size="18px" button_text_spacing="0px" button_bg_color="#05a0a9" button_padding="20px 30px 20px 30px" button_border_width="0px" button_border_color="#000000" button_border_radius="0px" button_text_hover_color="#ffffff" button_text_spacing_hover="0px" button_bg_hover_color="#df4e15" button_border_hover_color="#df4e15" has_container="" in_column="1"]//kylmls.us12.list-manage.com/subscribe/post?u=71ceb22ee464954326b952113&id=dd561c46d9[/ce_mailchimp]